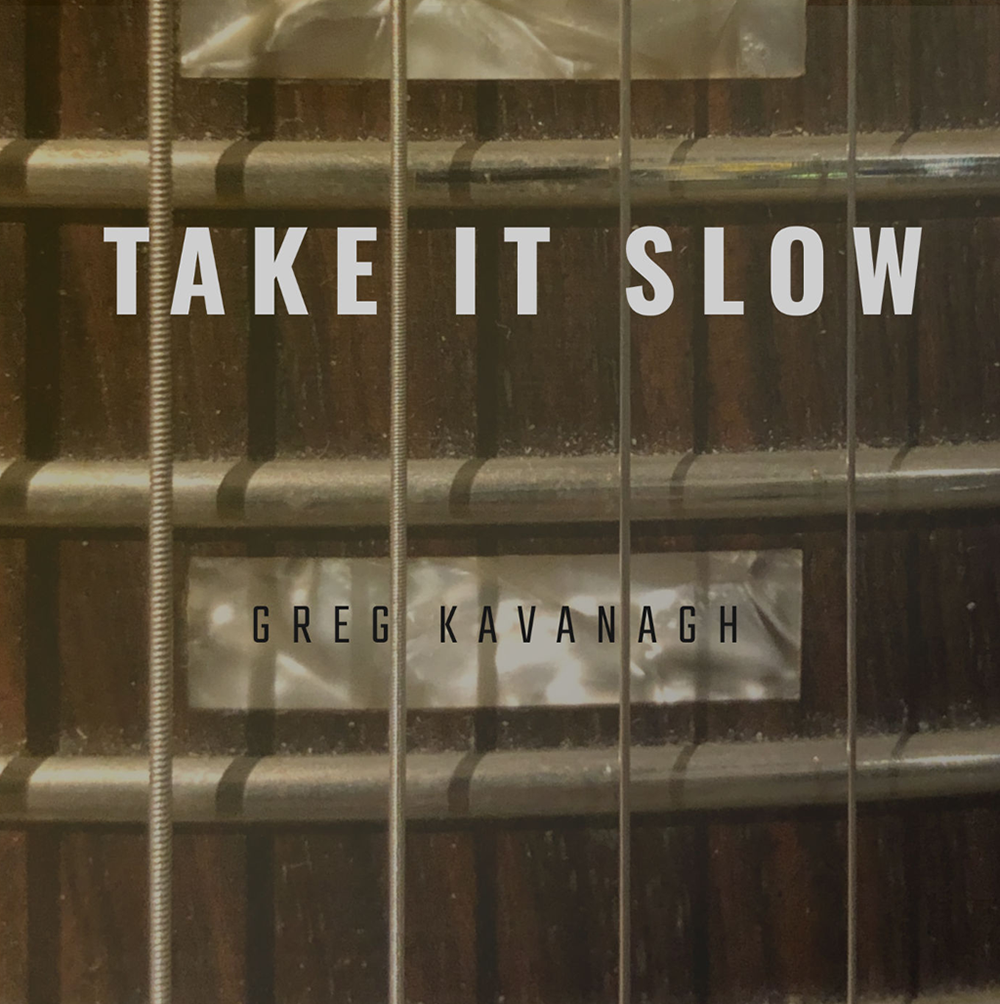 Greg Kavanagh's latest release, Take It Slow, came to be as a result of his deep appreciation for the Blues. Like the rest of us, Greg found himself grounded during the outbreak of COVID-19. Unable to conduct normal business, Greg began to write some new songs. Technology allowed him to call on a couple of good friends to join in, and he soon found himself in possession of multiple tracks that now take centre stage on this new CD. This excellent new release is quickly finding airtime on select radio stations. Enjoy!
Can't Wait
Gotta Change The Game
Gonna Move It
Happy Here With You
Broadway and Vine
Take It Slow
Text Me Blues
---
Greg Kavanagh has been in the music business all his life. As a young guitar player, he honed his skills studying with Lee Ritenour in Los Angeles, later touring and supporting or producing world class artists, including Holly Cole, Marc Jordan, Amy Sky, Molly Johnson, Jennifer Warnes, Chrissie Hynde, Emmy-Lou Harris, Aretha Franklin, The Spinners, M+M, Linda Ronstadt, Judy Collins, Gordon Lightfoot, The Toronto Symphony Orchestra, and many more.
By the time he was 30 Greg was composing and producing TV theme and incidental music for ABC, CBC, CTV, ATV and CBL. Greg is also not stranger to TV commercials having worked on such accounts as Ford, Mattel (Barbie, Disney, Hot Wheels, Polly Pocket), Pepsi-Cola, Mountain Dew, Reckitt Benckiser, Kraft Dinner, Hyundai, Kellogg's and Chesebrough-Ponds, etc.
In the 90's Greg began producing artists and securing label deals for them. Since then he has overseen and guided many careers, from the studio to the stage. His international reputation and success in securing foreign deals has put him amongst the top of his field. With over 50 albums under his belt, Greg's extensive experience and skills in producing and engineering, have earned him and his artists multiple Juno nominations, a Juno Award, MuchMusic Best Dance Video Award, multiple Smooth Jazz Award nominations, an ECMA for 'Urban Artist Of The Year', and multiple gold and platinum selling albums.
Greg's label, GKM, is distributed digitally by Believe Digital, and is distributed physically by DEP/Universal. He actively develops and manages select artists on his roster. Greg currently offers a development opportunity to young singer/songwriter/musicians wanting to experience the songwriting and digital production process, focusing on their instrument/vocal skills, in a nurturing and supportive environment, with direct access to top industry.
Greg is a member of CFM, SOCAN, CCMA, CIMA, AVLA, CARAS, SAC, and a former Advisory Board member of the Humber School of Music.