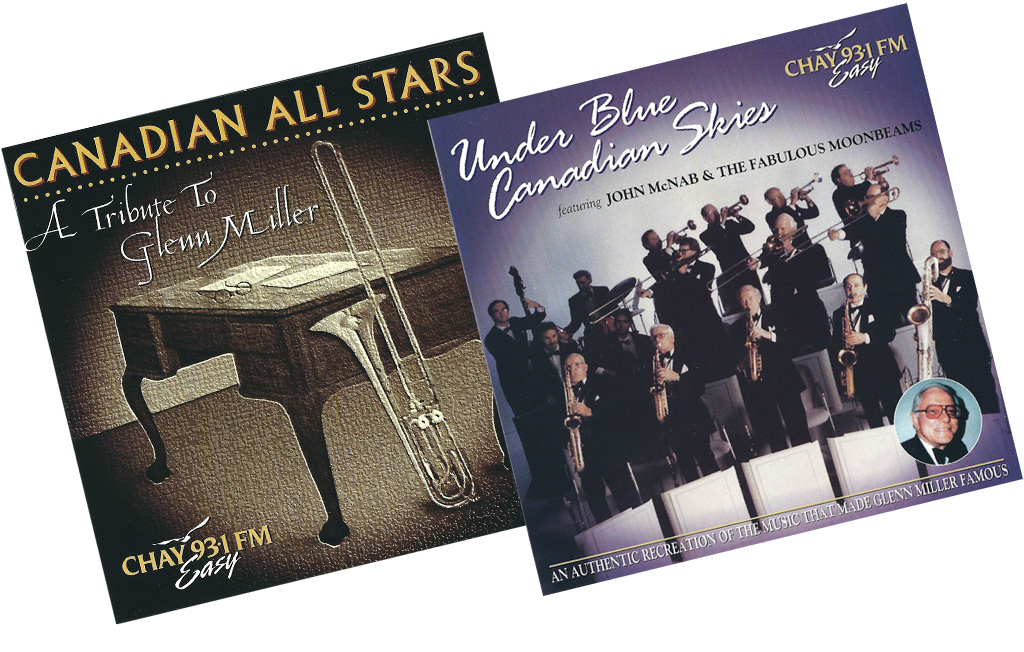 This was one of those special projects that only presents itself once in a lifetime.
The purpose behind the recording sessions featuring the Canadian All Stars was to produce an authentic recreation of the original Glenn Miller sound featuring Canada's leading big band performers.
Arranger Martin Loomer began pulling arrangements from original Glenn Miller recordings until his personal goal of one hundred scores was achieved … a mammoth undertaking!
Week after hectic week, rehearsals continued with band members and the fabulous vocal group 'The Moonbeams.' At one of those rehearsals, a talented young Canadian vocalist by the name of John McNab arrived to sing the wonderful Ray Eberle ballads as though thtey had been written just for him.
And then it all came together.
Recording sessions took place at McClear Pathe Studios on Mutual Street in Toronto, produced by Toronto's Greg Kavanagh.
The two CD recording sessions were a part of Shaw Communications Development of Canadian Talent recording series for CHAY-FM radio under the direction of Program Manager and Executive Producer Paul Richards.
Kavanagh's sensitive touch and attention to detail was complimented by the technical genius of studio engineer Nick Blagona.
The national buzz surrounding the release of this material included a Juno nomination.
Kavanagh and Blagona contributed the warm acoustic sound of the 1940's by using two original RCA 44 and two RCA DX-77 microphones, discovered tucked away in the Toronto RCA (McClear-Pathe) recording studio basement!
Enjoy the good memories …
Moonlight Serenade by The Canadian All Stars
In The Mood by The Canadian All Stars
Pennsylvania 6-5000 by The Canadian All Stars
(I've Got A Gal In) Kalamazoo by The Canadian All Stars
Don't Sit Under The Apple Tree by The Canadian All Stars
Chattanooga Choo Choo by The Canadian All Stars
At Last by The Canadian All Stars
---