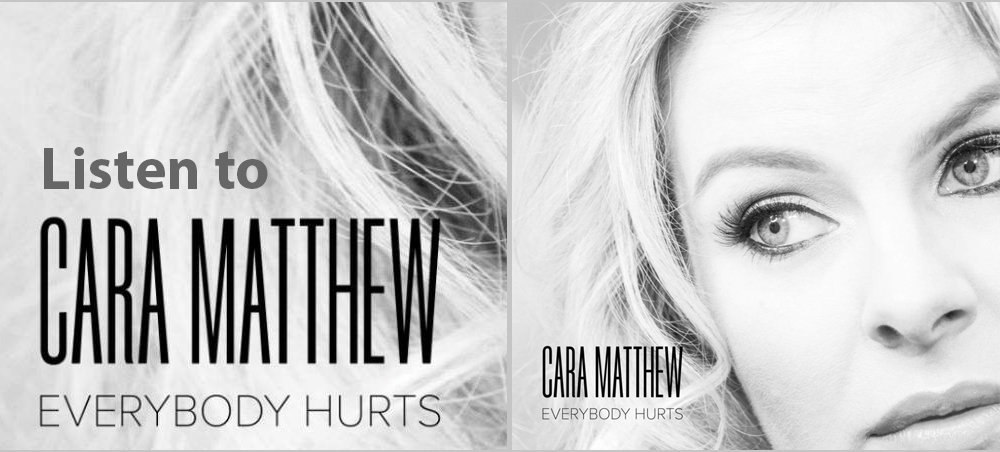 Everybody Hurts is Cara Matthew's long-awaited sophomore album that includes jazz and blues covers of songs from artists as diverse as Katy Perry, the BeeGees, and even 80s pop sensation Erasure.
Inspired by Ray Charles, Norah Jones and even Bonnie Raitt, this CD features electric guitar and also includes a first for Cara Matthew: a tune she wrote with her producer entitled I Never Knew.
Crossing various genres of adult contemporary, jazz and blues, once you hear it, Everybody Hurts will leave you wanting more!
CLICK HERE to order Everybody Hurts on iTunes
Roar
Can't Take My Eyes Off Of You
I Never Knew
Little Respect
Everybody Hurts
To Love Somebody
Every Breath You Take
Listen to more music by Cara Matthew
Walk On By
Make You Feel My Love
What It Takes
---

Nominated for a 2008 Ontario Independent Music Award and seen on Entertainment Tonight Canada, jazz and blues vocalist Cara Matthew released her debut album, "Make You Feel My Love," on August 4th, 2009 through Awesome Music with EMI Music Canada distribution. Her record features arrangements of tunes by Aerosmith, Billy Joel, Bob Dylan and other popular artists in a bluesy and jazzy fashion all her own. Juno-award-winning Greg Kavanagh produced the project and brilliant players from trumpeter Guido Basso to bassist George Koller share their talents. The results of this creation are original, pure melodies to be enjoyed by all musical enthusiasts.
Cara has sold out prestigious venues including the Cellar Jazz Club in Vancouver, B.C., Jeffrey's Cafe and Wine Bar in Edmonton as well as the Beat Niq Jazz Club in Calgary, Alberta. She has performed at Baker's Keyboard Lounge in Detroit, Michigan, which is the "longest running jazz club anywhere in the world." Cara's recent performances also include: opening for Alfie Zappacosta at Chateau des Charmes winery in Niagara-on-the-Lake for a Jazz Concert Series, being featured in the 2009 Music on Main Festival, being a part of Jane Harbury's Discovery series at the Hugh's Room and entertaining the VIP/Sponsorship dinner of the 2009 Oakville Jazz Festival.
Starting her own jazz night, Cara sings in downtown Toronto every Wednesday night at Woo Restaurant & Lounge. Cara has also gigged at venues such as Lula Lounge, Ultra Supper Club, The Black Dog Pub, Centro Restaurant & Lounge and Alleycatz playing with various musicians including pianist Attila Fias (Randy Cook/Hendrik Meurkens), Dave Restivo (Marc Jordan), Adrian Farrugia, keyboardist Robi Botos (Molly Johnson), drummer Marc Pizer (Marc Jordan) and bassist George Koller (Marc Jordan).
The title track of Cara's new CD was released in Australia on Foghorn Records in May 2008 and radio stations around the world are playing various tracks from her album including BRTO Radio in the Netherlands, vibes 90.6fm in the United Kingdom, Triple H FM as well as PBS FM 106-7 in Australia. In Canada, stations such as Coast 101.1 FM in St. John's, NL play her record where DJ Bill Sharpe said he "would love to have any material that Cara Matthew puts on the market."

---